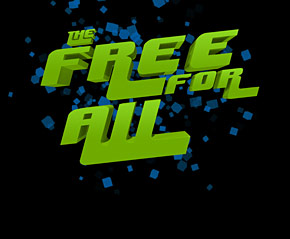 This week on The Free For All: Andrew and Coco talk Black Friday and Christmas shopping. What do Andrew and Coco want for Christmas? Is it possible to get bad Chinese food in New York? Andrew and Coco talk about the best places in New York to get Chinese food. Jake Kettle calls in. Andrew asks him why he argues with everyone on Facebook. Does trouble follow Jake? Andrew explains why he hates driving in New Jersey, on his way back from a trip to Atlantic City. Is driving in New Jersey worse that New York? Andrew and Jake talk about their favorite conspiracy web sites, and starting rumors. What absurd conspiracies do people have? Andrew goes off on a rant about the end of the world and 2012.
"The Free For All" is sponsored by:
FreshBooks.com The fastest way to track time, organize expenses, & invoice your clients. Try it for free! Mention GFQ when you sign up.
Hover.com Domain names made simple. Go to gfq.hover.com, you can get 10% off your next purchase from Hover.com.
Audible.com To get a free Audiobook go to audiblepodcast.com/ANDREW
Audio