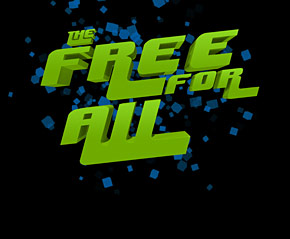 This week on The Free For All: Coco talks about his struggle with quitting smoking. How is he holding up? Spencer offers tips and advice to Coco. To make matters worse, Coco's girlfriend breaks up with him via text message. He explains the relationship and how she broke it off. Andrew of course has to exacerbates the issue. Should Coco's ex feel bad for what she did to him? Joe calls in saying he was worried about Andrew all week. Why? Joe also picks a fight with Coco, who is already on edge. Christian calls in to lend his support to Coco. Andrew and Spencer ask Coco where he tries to meet women. Andrew offers to take Coco to the club and be his wing man. Spencer and Coco try and guess how many women Andrew slept with before he got married. Is there such a thing as having too many partners?
"The Free For All" is sponsored by:
FreshBooks.com The fastest way to track time, organize expenses, & invoice your clients. Try it for free! Mention GFQ when you sign up.
Hover.com Domain names made simple. Go to gfq.hover.com, you can get 10% off your next purchase from Hover.com.
Audible.com To get a free Audiobook go to audiblepodcast.com/ANDREW
Audio