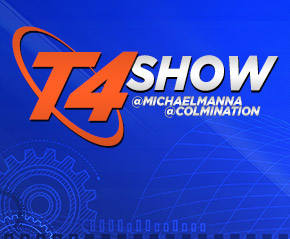 Audio
Welcome back to another Wednesday edition of the T4 Show. Michael, Colm, & Sunkast start the show off with talk about the iPhone 5 being discontinued. What is the rumored iPhone 5C all about? The Nokia Lumia gets reviewed by Paul Thurott and it has the best camera phone ever. Another Android phone is coming out and we are SO excited. Are you a Waze user? Colm explains why you should be and what it has to offer. Gamescom is going on in Germany and the PS4 has a launch date. Colm finishes the show with his new addition, Disney Infinity! Are you going to catch the collecting bug?
T4 Show shirts are now available at http://www.prowrestlingtees.com/t4 and Stevie Richards tees at http://www.prowrestlingtees.com/stevierichards
T4 Show is sponsored by
Netflix Try Netflix today for 30-days free. Go to Netflix.com/GFQ
Michael: Dark Legacy
Colm: Ip Man
Notes
iPhone 5 To Be Discontinued?
http://www.macrumors.com/2013/08/19/iphone-5c-predicted-to-replace-iphone-5-iphone-4s-sales-to-continue/
Nokia Lumia 1020 Review By @Thurott
http://winsupersite.com/windows-phone/nokia-lumia-1020-review
Motorola Droid Ultra- Another F%ING Android Device?!??!?!
http://www.androidcentral.com/motorola-droid-ultra-first-look-videos-and-pictures
Sony at Gamescom
http://www.engadget.com/2013/08/21/sony-at-gamescom-2013/
PS4 Release Date Announced
http://www.pastapadre.com/2013/08/20/sony-announces-ps4-release-date
Disney Infinity
Google Maps/ Waze Update with Crossover Features
http://www.androidcentral.com/google-maps-and-waze-updated-crossover-features