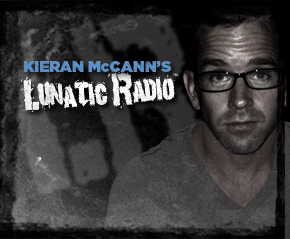 Week one of Kieran McCann's LR is over. On this broadcast the boyz finally hit there stride when the topic of Guns N Roses reuniting at the Rock n Roll Hall of Fame popped up. Plus Jon from "Behind The Counter" stops by and joins the discussion. This just in, Whitney Houston is still dead. Those topics and much more on this edition of Kieran McCann's Lunatic Radio.

Kieran McCann's LunaticRadio is Sponsored by:
Hover.com. Domain names made simple. Go to gfq.hover.com, you can get 10% off your next purchase from Hover.com.
Audible.com To get a free Audiobook go to audiblepodcast.com/ANDREW
Audio