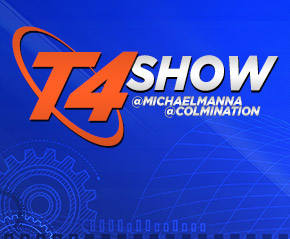 Audio
In episode 141 Colm, Michael, & Sunkast start off talking about Google I/O 2013. First @colmination brings up the new hangout app for iOS. Colm gets very excited about Google's new initiative to go create a game network. Michael talks about the Google TV and asks if this new update will save the project. They both agree that the new pictures feature in Google+ will be nice but up to what Google deems great. Colm finally gets to talk more about DOTA and how GFQgaming is starting up on twitch and to subscribe.
The trio then discuss digital merchandise and how we get our games. Ubisoft also had a great year and made same great games in 2012. Michael then talks about a new watch band for his nano and fancy cases from the great guys at LUNATIK We then close the show talking about the website : If Then Than This www.ifttt.com Michael is amazed with what he can program. Send us your favorite recipes.
T4 Show is sponsored by
Netflix Try Netflix today for 30-days free. Go to Netflix.com/GFQ
Notes
Also send Colmination a steam invite and he can add you to the GFQ gaming group and also add us on Twitch.
Dota 2 News: The International 3
Ifttt: www.ifttt.com