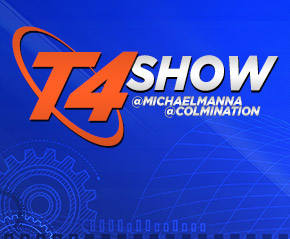 Audio
Welcome back to another episode of the T4 Show. This week @andrewzarian joined us on the show for his first Wednesday appearance. We first ask the question of which box will you get PS4 or XBOX ONE? Colm goes with Sony and Michael XBOX. Andrew says he will be in line for both systems. Which means he will pay someone to get it for him. Tim Cook appears for D11 and the guys discuss Mr. Walt Mossberg. The Roku has a huge investment and do we think the future will be bright for the cord cutting device? Colm talks about Apple bringing more jobs back to America. Are you someone who would pay more for an American made product? Michael then talks about his new favorite gadget, the Wemo. This device works with IFTTT site and you can automate your life. Netflix is back and we let you know what we pick.
T4 Show is sponsored by
Netflix Try Netflix today for 30-days free. Go to Netflix.com/GFQ
Michael – Justice League Unlimited Epilogue
Colm – http://movies.netflix.com/WiMovie/Robot_Frank/70227654?locale=en-US
Notes
Follow Up on Xbox One event. What does this mean for the WiiU?
Full Video of Tim Cook's D11 Interview Now Available
Roku raises $60 million investment as it tries to keep up in the war for your TV
Apple Hires at Least a Dozen Former AMD Employees for an 'Orlando GPU Team', Still Hiring More
WeMo
http://www.amazon.com/Belkin-Automation-Switch-Apple-iPhone/dp/B0089WFPRO
New 'Arrested Development' Pulls Off The Geekiest Gag Ever, Confuses Much Of The Internet
http://techcrunch.com/2013/05/26/show-stealer-pro-trial-version-os-x-keygen-haxxxxx/