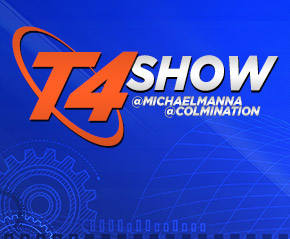 Audio
In this episode, Colm and Michael debate iOS7 vs Android after Colm has had some time to use iOS7 Beta. Also, @RDLee calls in to share some amazing media sharing knowledge about Sony UltraViolet and its compatible services. Plus – YOUR questions answered!
T4 Show shirts are now available at http://www.prowrestlingtees.com/stevierichards
T4 Show is sponsored by
Netflix Try Netflix today for 30-days free. Go to Netflix.com/GFQ
Colm's pick: Children of the Corn: Genesis starring Kelen Coleman: http://movies.netflix.com/WiMovie/Children_of_the_Corn_Genesis/70189375?trkid=2361637
Michael's pick: Justice League Unlimited: https://movies.netflix.com/WiMovie/Justice_League_Unlimited/70177044?locale=en-US
Notes
Colm updates using iOS7 Beta– will he switch to iOS?
Michael reviews TactSlider iOS game controller
Michael updates on the AirFrame Car Mount
RD Lee voicemail on Sony UltraViolet, CinemaNow, Vudu