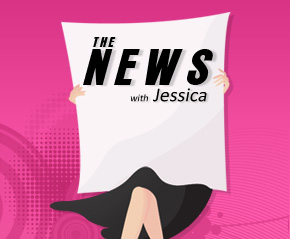 This week in The News with Jessica: A witness live Tweets a couple's break up at a Burger King. A pregnant British woman says she craves road kill. Dr. Conrad Murry is found guilty in Michael Jackson's death. A national study finds widespread sexual harassment of students in grades 7-12. Two women are arrested in a bizarre satanic sex scandal. A man is suing a gym for $200,000 for a missing breakfast. The Occupy protesters might decide to move to L.A. for the winter. A new study says that fatherhood may help back on drinking, smoking, and crime. A Marc Jacobs ad featuring Dakota Fanning is banned in the U.K. Justin Bieber will take a paternity test to find out whether or not a baby is his. A Cleveland poll worker has surrendered to police after trying to bite off another person's nose.
Follow Jessica on Twitter @JessicaZarian
"The News with Jessica" is sponsored by:
FreshBooks.com The fastest way to track time, organize expenses, & invoice your clients. Try it for free! Mention GFQ when you sign up.
Hover.com. Domain names made simple. Go to gfq.hover.com, you can get 10% off your next purchase from Hover.com.
Audible.com To get a free Audiobook go to audiblepodcast.com/ANDREW
Audio