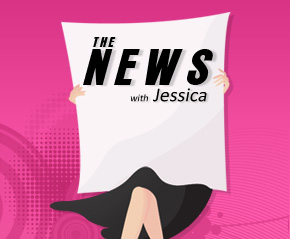 This week in The News with Jessica: A new line of marshmellow flavored Vodka is now on sale. A Boston student has been reunited with her $170,000 violin. New laws are set to take effect beginning New Year's Day. North Korea declares Kim Jong Un their new supreme leader. Samoa decides to skip a day. A new study says red meat lovers are more likely to have kidney cancer. More cops died in Florida this year than any other state. Kim Kardashian will be hosting a New Year's Eve event in Las Vegas. Forty pound monster fish bites fisherman's balls. A mentally ill woman hops a fence at the L.A. Zoo just to touch an elephant. And the Irish government sets a ban on smacking children.
Follow Jessica on Twitter @JessicaZarian
"The News with Jessica" is sponsored by:
FreshBooks.com The fastest way to track time, organize expenses, & invoice your clients. Try it for free! Mention GFQ when you sign up.
Hover.com. Domain names made simple. Go to gfq.hover.com, you can get 10% off your next purchase from Hover.com.
Audible.com To get a free Audiobook go to audiblepodcast.com/ANDREW
Audio